Ed LaChapelle, a member of the IGS since 1960, former Vice President and Council member, has died at the age of 80
1 February 2007
Ed LaChapelle was a long time member of the IGS and served as Vice President and Council Member. He graduated in physics at the University of Puget
Sound (UPS) in Tacoma, Washington and he also received an Honorary Doctorate from UPS. He began his career in glaciology with a year-long visit to the Swiss Federal Institute for Snow and Avalanche Science during the disastrous year of 1950/1. In 1952, he joined the avalanche research station of the US Forest Service at Alta, Utah. This resulted in the introduction of formal techniques for snow observations and avalanche forecasting and the development of instruments for weather and snow observations. While with the Forest Service, he also wrote the Avalanche Handbook (1961) for the US Forest Service, which has been revised by various people for 45 years as the major technical work in the field. In 1969, he became a professor in the Department of Atmospheric Sciences and the Geophysics Program at the University of Washington.
Ed's scientific contributions to glaciology were many and varied, with fundamental work on alpine glaciers and, more notably, snow and avalanche science. His work on glaciers consisted mostly of summer field work for many years on the Blue Glacier on Mt Olympus, Washington. This work included verification of regelation as a mechanism of glacier sliding along with Barclay Kamb. He also published the highly sought after and beautiful book Glacier Ice along with Austin Post in 1971.
His contributions to avalanche science and technology included definition of the fundamental principles of avalanche forecasting based on his vast field experience. As a result of his experience in electronics with the US Navy, he pioneered the modern avalanche transceiver while working with John Lawton. These contributions to avalanche safety are used every winter by tens of thousands of people who travel avalanche terrain.
Ed LaChapelle's books on snow and avalanches included: The ABCs of Avalanche Safety (three editions since 1961), Field Guide to Snow Crystals (first published 1969 (a great bargain at US$2.95!) and still available from the IGS) and Secrets of the Snow (2001 co-published by the IGS). The direct 'day to day' impact of Ed's work on people, particularly those who travel in avalanche terrain, probably exceeds that of any glaciologist in history.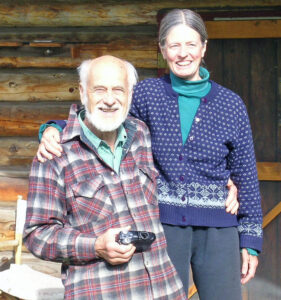 On the personal side, Ed was a free spirit and a wonderful colleague and friend. His lectures were like his writing: very clear and a pleasure to experience. His early retirement from the academic world in 1982 is an example of his free-spirited nature. Soon after, he moved to the solitude of McCarthy in the Wrangell Range of central Alaska for the spring and summer months. Ed was a modest person who left it to others to discover his great qualities. He ranks high on the personal accomplishment scale but his driving motivation was to produce products that were useful to people and, in my experience, he was
not interested whether he personally was credited or not. His love of snow and ice never wavered: he was on skis up until the last 2 hours of his life and what a life it was!
David McClung
University of British Columbia, Vancouver, BC,
Canada