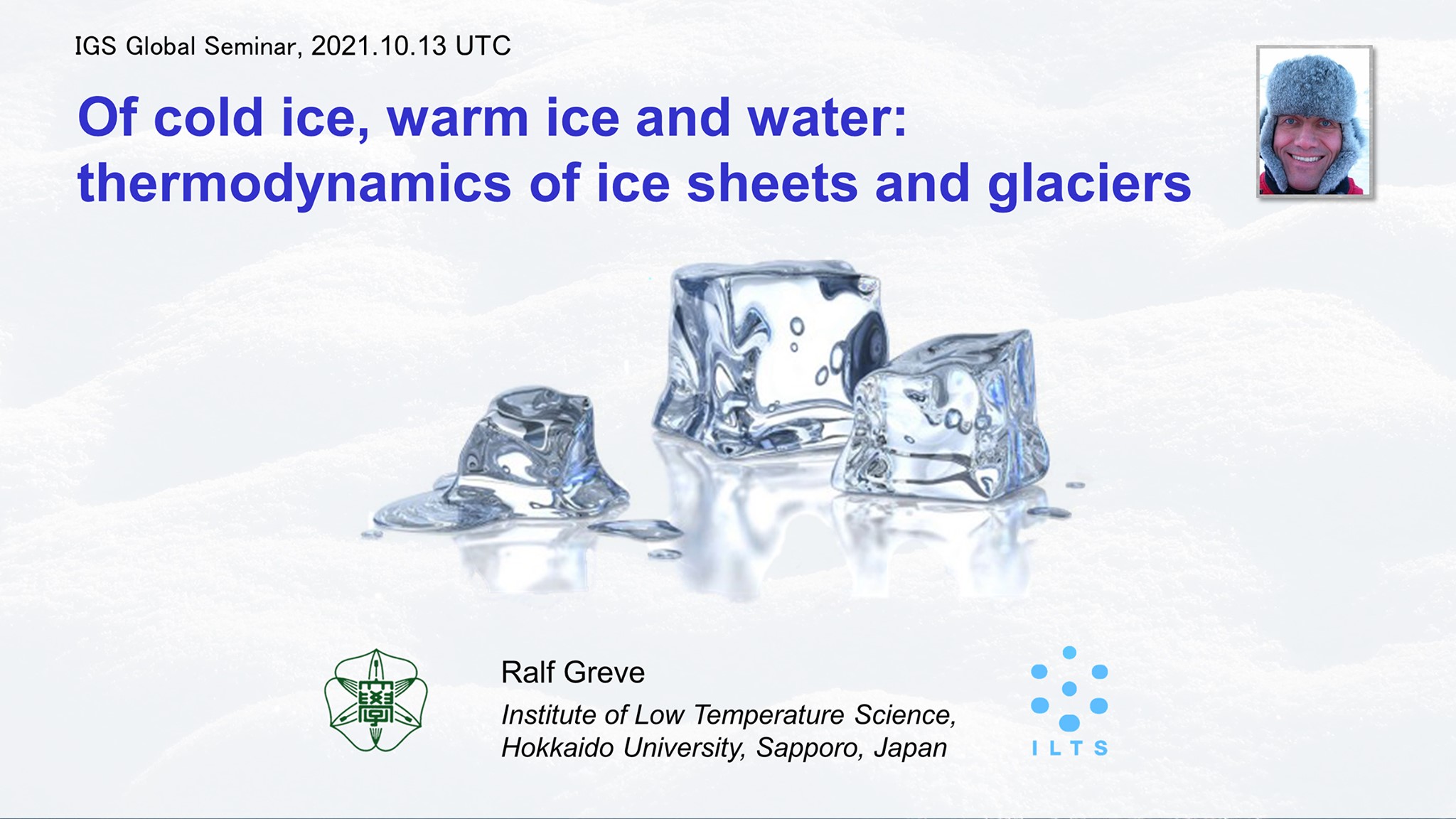 Ralf Greve, Professor at the Institute of Low Temperature Science, Hokkaido University, Japan, gave this week's IGS Global Seminar entitled: "Of cold ice, warm ice and water: thermodynamics of ice sheets and glaciers". Ralf is an experienced hand in theoretical fluid mechanics applied to glaciers and ice sheets, and worked for many of his early years with renowned theoretician Kolumban Hutter. Since moving to the large Northern island of Japan and joining the faculty of Hokkaido University, Ralf has concentrated on a variety of research problems involving large-scale ice-sheet flow on Earth and Mars, as well as additional problems involving ice/atmosphere interaction. With co-author Heinz Blatter, Ralf wrote one of the major textbooks in glaciology: Dynamics of Ice Sheets and Glaciers. Ralf has also created one of the major numerical model engines in use in glaciology, the model SICOPOLIS, which is distinctive because it treats (or was one of the first to treat) poly thermal ice conditions (e.g., near the bed of the Greenland Ice Sheet, where the ice is at its melting temperature throughout large vertical distances).
We thank Ralf for giving us a sharp and well presented view of the thermodynamics of ice sheets and glaciers. You can catch a video of Ralf's seminar on the IGS YouTube channel.
Doug MacAyeal
You can access the talk on the IGS YouTube channel.
This is a very clear talk and if you would like to download the slides themselves from the talk go to: https://doi.org/10.5281/zenodo.5567897