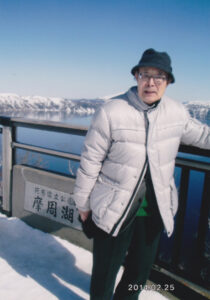 It is with great sadness that we inform you that Dr Keiji Higuchi has died on October 19th at the age of 92. He was made an honorary member of the Society in 2016.
His contribution to glaciology has many aspects, but notably in the polymorphic characteristics of snow crystals; pioneer initiative in the tropical glaciology in the Himalayas, including initiating the work of glacier inventory in the Himalayas, introducing glaciology to tropical scientists; and raising a number of outstanding glaciologists through his projects.
In addition to the glacier inventory in the Himalayas, Prof Higuchi's other pioneer contributions are the effect of aerosol on ablation and the orographical effects on precipitation and mass balance.
Above all, the introduction of young scientists to Himalayan glaciology is his lasting legacy.
For Keiji Higuchi the true leadership had to be invisible. He believed leadership should be exercised externally hidden, to the extent that all participants come out with a feeling that we have done all on our own.
If you would like to read the extended obituary for him please refer to ICE 179 1st issue 2019 pp20-21